Invalid table id.
Air Purifiers for Pet Hair and Dander
Anyone who's ever had a cat or dog knows how much they shed. Not only does your home become littered with animal toys and fur, but who knows what other allergens, mites, and particles are flying off your pup when he scratches, or off your cat when she licks herself clean. If the thought of all these unknowns makes your skin crawl, or worse, makes your sinuses block up and your eyes water, then an air purifier designed to eliminate pet hair and dander should be on your wish list!
There are so many benefits to having an air purifier in your home, and now with added pet hair and dander removal features, you can rest easy knowing you and your family are safe from allergens and mites. The best part is Fluffy and Fido won't be affected by the air purifier, apart from the fact that their air quality will be increased too! It's a win-win situation.
Here are some of the top picks out there today:
 WINIX U450 True HEPA Air Purifier Review - Our Number 1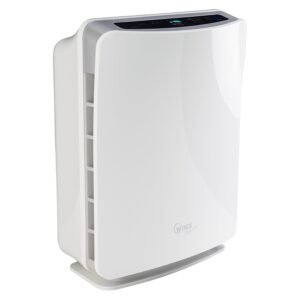 Leading the air purification market, WINIX (CHECK PRICE!) has created an air purifier that is perfect for fed up pet owners. The WINIX U450 offers silent, effective air cleaning and allergen removal while you and your fluffy friends go about your daily business.
To see why it's the first choice on this list, take a look at the features it has below:
 5-stage cleaning system ensures effective removal of pollen, allergies, mites, hair, and dander from the air in your home or office.
 The HEPA filter cassette utilizes CleanCel technology to powerfully and reliably filter waste from your air, making sure all clean air is recycled back into your space.
 PlasmaWave technology coupled with the Advanced Odour Control system eliminates odours, so say goodbye to that wet-dog smell everyone hates so much.
 CADR rated for 45sqm meaning the WINIX U450 is ideal for large bedrooms, living rooms,and offices.
Are you convinced? The WINIX U450 is a solid investment that will take care of your air quality issues for years to come. With a name you can trust, you will not be disappointed, and it will be clear to see why this option came so highly recommended. So go on…give your pet a cuddle, and don't worry about the rest.
Summary
Features: 5-stage cleaning process – HEPA filter cassette with CleanCel technology – PlasmaWave
technology – CADR for 45sqm
Pricing: High-end

 Levoit Air Purifier Review - Number 2
The Levoit air purifier is a master of engineering and its futuristic design is not its only selling point! For great results within just a couple of days, this product from Levoit combines smooth, quiet operation with easy user interface and maintenance to leave you with clean, dander-free air without you having to lift a finger. Here are some of its main features: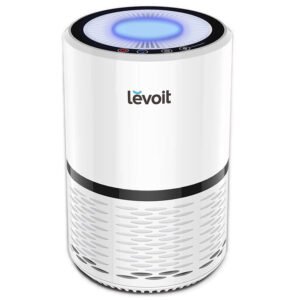 True HEPA technology to filter out 99.97% of particles, dust, and allergens
 Triple filtration system to eliminate even the slightest particles and odours from your air.
Customisable speed and brightness settings to ensure the process it tailored to your every need.
Powerful motor and completely ozone free, meaning you can rest easy having made a guilt free choice.
The Levoit air purifier is perfectly suited for use around children, the elderly, people with respiratory disorders, and of course, your pets, making it the family friendly option and general all-rounder. Its compact but powerful build means it can achieve a lot without impacting other areas of your life, ideal for those who are busy or always on the go.
Summary
Features: True HEPA technology – Triple filtration system – Customisable settings – Completely
ozone free
Pricing: Mid-range

HoMedics HEPA Air Purifier Fan Review - Number 3
The final product in our top three is the HoMedics HEPA air purifier fan, revered for its efficiency and elegant upstanding design. If the pet hairs, mites, and dust that comes along with them are getting you down, or making your eyes puffy, an air purifier with the strength of this HoMedics creation could be just what you're after.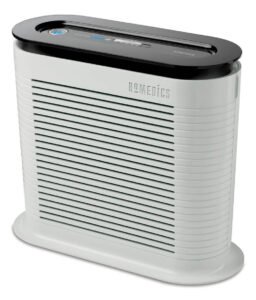 Take a look at it's features and find out:
HEPA filter removes 99.97% of toxins and allergens from the air, including the constant onslaught of pet dander you might be experiencing.
Three air cleaning speeds to ensure the process is well-suited to the quality of the air in your space.
Manual controls and filter check monitoring enables the user to stay in the know at all times, putting you in complete control.
Three-year warranty as a testament to its fine quality standards and durability.
Breathe easy with the HoMedics air purifier fan. Put the restless nights to bed, and feel the difference clean, fresh air makes to your life, and to that of your fluffy friend! Having a pet will never feel like a burden on your health again.
Summary
Features: True HEPA filter – Three air cleaning speeds – Manual controls – Filter check monitoring
– Three-year warranty
Pricing: Affordable

Verdict
Each of these air purifiers has earned its place on this list, and each utilizes its design and functions to bring you amazing results. Specifically designed for eliminated pet hair and dander, these products go the extra mile. The winning candidate though, is the WINIX U450, with its unbeatable air cleaning facilities and state-of- the-art filtration system.
If allergies and asthma are problems you suffer from, buy a WINIX U450, and see your life change for the better!