Product
Top Rated
Great Value
Filter
All-in-One True-HEPA Filter Cassette; pre-filter, CleanCel technology, granular carbon filter, True-HEPA filter, & PlasmaWave
All-in-One True-HEPA Filter Cassette; pre-filter, CleanCel technology, granular carbon filter, True-HEPA filter, & PlasmaWave
Top Rated
Product
Filter
All-in-One True-HEPA Filter Cassette; pre-filter, CleanCel technology, granular carbon filter, True-HEPA filter, & PlasmaWave
Great Value
Product
Filter
All-in-One True-HEPA Filter Cassette; pre-filter, CleanCel technology, granular carbon filter, True-HEPA filter, & PlasmaWave
Product
Air Purifiers with Washable Filters
If you're feeling a little sluggish, or like you could do with a holiday in the Alps to clear your lungs and mind, an air purifier might be a great option for you! Removing the toxins and impurities from the air in your home or office, and circulating cleaner, fresher air, an air purifier could help you to improve the quality of your breathing, remove odours, and even give you more energy.
You might be thinking that this all sounds good and fine, but where do those impurities go once they are taken out of the air? They can't just disappear, they have to end up somewhere! Air purifiers all include special filters for getting rid of particles and allergens, and there are many on the market which have washable filters to make your life cheaper and easier.
Take a look at some of the top choices in this category with washable filters. If you're drawn in by the thought of having the air around you cleaned to maximise your comfort and performance, then the below options will surely tantalize you…
WINIX U450 True HEPA Air Purifier Review – Our Number 1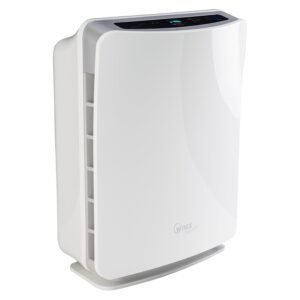 At the top of the range today, we have the WINIX U450 True HEPA air purifier( CHECK PRICE!). This product is chic and sleek, and offers the buyer a high quality and easy to maintain air purifying option. Picture it sitting in the corner of your bedroom or office.
Imagine your lungs singing with joy at the improvedair quality. Check out the main features of this amazing air purifier and see why it has earned the top spot on this list:
 5-stage cleaning process to remove all manner of particles, dust, and allergens from the air, eliminating odours and toxins.
 PlasmaWave technology breaks down particles, odours, and allergens without creating harmful ozone.
Washable filter with granulated activated carbon as part of its Advanced Odour Control system.
CADR rated and suitable for spaces up to 45sqm, meaning you can place it in even large
rooms and it will still work unhindered.
You can also operate the WINIX U450 by remote control meaning you are never inconvenienced when adjusting the settings, and you don't need to worry about excessive noise either as this air purifier is effortlessly quiet. At the top spot, this is truly a fantastic investment!
Summary
Features: 5-stage cleaning process – PlasmaWave technology – Washable filter with activated
carbon – CADR rated for up to 45sqm
Pricing: High-end
 WINIX U300 True HEPA Air Purifier Review – Number 2
The close sibling to the WINIX U450, the WINIX U300 upholds the WINIX brand name and offers amazing results that will have you trying to breathe in every last bit of clean air. With a name you can trust, and quality that is assured, what's stopping you from purchasing this professional air purifying machine?
If you take a bit more convincing, exploring the WINIX U300's top features will undoubtedly sway you:
 5-stage cleaning process removes dust, pollen, and other allergens from the air, churning
out safer, cleaner air for your comfort.
True HEPA filter cassette fitted with the latest technology to provide long-lasting and reliable
air cleaning services.
 Advanced Odour Control system which works alongside the washable filter to maintain air
purifying abilities and eliminate toxins and unpleasant smells.
 CADR rated suitable for rooms up to 30sqm, meaning the WINIX U300 is ideal for offices and
bedrooms.
A cheaper alternative to its big brother, the WINIX U300 is the perfect solution for your air purifying needs at home and at work. The washable filter allows for easy cleaning and improved durability meaning you don't need to go to extreme lengths to clean the air around you. How could you say no to that?
Summary
Features: 5-stage cleaning process – True HEPA removable filter – Advanced Odour Control System
– CADR rated for up to 30sqm
Pricing: Mid-range
 Bionaire Air Purifier Review – Number 3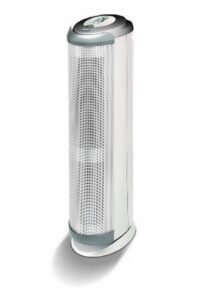 With a design unlike any other air purifier, this product from Bionaire looks like something out of a sci-fi film! If you're looking for a durable and reliable air-purifying solution for your home, the Bionaire air purifier has the features and functions you're after!
Here are some of its most impressive features. See why it's so highly sought after:
 Independently controlled ioniser to ensure ease of operation and smooth purifying action.
99% efficient HEPA-Type filter, capable of removing particles of more than 2 microns in size
from the air.
4 cleaning levels working in conjunction with an air quality sensor to ensure the cleaning
power is always matched to the air itself.
CADR suitable for large rooms of up to 34sqm making it ideal for living rooms, bedrooms,
and offices.
Whether you are in a home or work environment, it is important to make sure you are breathing in only the cleanest air possible. This can help you be healthier in the long run, as well as more productive.
If you struggle with respiratory issues or are just looking for an extra boost, the Bionaire air purify could be perfect for you!
Summary
Features: Independently controlled ioniser – 99% efficient HEPA filter – 4 cleaning levels – Air
quality sensor – CADR for up to 34sqm
Pricing: Affordable
Verdict
Although each of these options are professional, durable, and reliable, we know you're looking for a straight answer. Which should I go for? Which should I trust? The answer comes down to technological prowess and functionality, and the recommended choice has got to be the WINIX U450 True HEPA Air Purifier.
With unbeatable features, easy maintenance, and minimal noise, the WINIX U450 is the ideal choice for larger spaces and frequent use. Don't delay, get your hands on this fine product as soon as you can!