Pros:
- Captures 99.97% of allergens - Ultra Quiet-operation on Low Setting - Digital Display & Optional Ioniser - UV-C light works with filter to kill airborne bacteria, viruses and mould spores - Reduces odours - 2 Year Manufacturer Warranty
Cons:
- No obvious drawbacks noted
The PureMate HEPA Air Purifier and Ioniser (lowest price here!) is an outstanding piece of equipment and after just a few week's use has already provided a palpable improvement to the air quality of our home and removed a lot of dust. Upon unboxing it you can see that it is a flash looking piece of hardware that looks much more expensive than it actually is. At 22 inches high, it has a small footprint so can be placed pretty much anywhere in the home without getting in the way.
Like other models, this air purifier claims that it removes 99.7% of pollutants including pollens, pet dander and common house dust which all fall to the floor when they come in to contact with the PureMate's ions. It also works by drawing air through itself with a fan, catching the dust and mites in its removable filter and kills any air-borne bacteria with ultra-violet light so for such a small machine it does a lot of good work looking after the air of your home or office environment.
HEPA Air filter is recommended for asthma sufferers
Digital display is easy to read and controls are very simple
Helps eliminate any bad smells like cigarette smoke or lingering cooking odours.
Comes with a generous two year guarantee which gives good peace of mind.
Nice and quiet on low setting.
Powerful enough for larger rooms.
Can have an effect over 400 square feet which is enough for an entire flat or one floor of a house.
Gives you the option to have the ioniser off and the UV light on, vice versa or both at the same time.
Catches smoke, dust, mites, pollen and other pollutants – the whole family benefits
HEPA filter lasts up to a year before it requires replacement but new filters are relatively inexpensive when you consider how much work it does for your environment.
Discreet design that looks good wherever you put it, it always gets admiring looks when visitors come over.
Variable over 5 speeds, from Max to Ultra-Quiet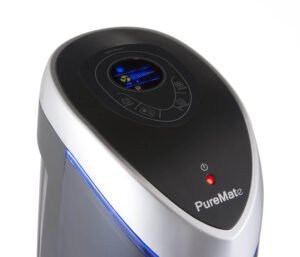 In summary, I would say that the PureMate HEPA Air Purifier and Ioniser is one of the most useful of its kind and an invaluable piece of tech in today's world where we are faced with pollution inside and outside the home. Breathing in clean, fresh air at night improves your sleep and you won't wake up with the snuffles as so many people do. One one of the lower settings of one to three you should be able to sleep quite soundly even if you decide to have it on in your bedroom. In fact, for many people the gentle white noise it does give off helps aid a good nights sleep.
It looks good while it works too, like a high end speaker box that makes your home that much more comfortable and fresh. Quite simply, the PureMate does what it says on the box – it makes the air in your home cleaner and fresher and once you've used it you won't look back and you will notice the difference when you visit friends or relatives who don't 'take care of their air'.