[amazon table="320"]
Top 3 Air Purifiers For Pet Allergies
AeraMax Pet PT65 Review - Our Number 1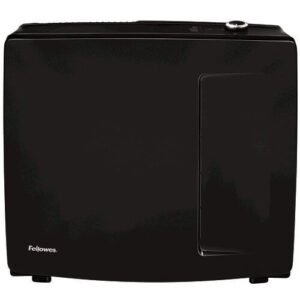 This AeraMax product has been specifically designed to combat pet allergens. Read on to find out more (CHECK PRICE!).
The AeraMax Pet is designed to reduce and remove pet allergens and unpleasant smells, including the odours and allergens that swarm around litter boxes and pet beds. This product contains a thick carbon filter which can effectively remove pet odour.
This AeraMax purifier comes with a HEPA filter. HEPA filters are known to remove 99.97% of particles that measure over 0.3 microns, which is more than enough to deal with pet allergens, dust and mould spores.
You can manually adjust the AeraMax's fan setting to high, medium or low depending on your needs.
This product has an inbuilt indicator that will remind you when it is time to change your HEPA and Carbon filters, thus ensuring you never forget
This air purifier works in rooms that measure up to 21m and is therefore perfect for small and medium sized rooms.
Summary
Features: Eliminates pet allergens & odours - Effective HEPA filter - Manual settings - In-built indicator - Appropriate for rooms up to 21m.
Pricing: High-end.

Fellowes DX95 Review - Number 2
This attractive, shiny and futuristic looking air purifier is great for removing pet allergens. Read on for more information.
This Fellowes air purifier comes with a HEPA filter which is guaranteed to capture 99.97% of harmful particles including pet allergens, dust mites and pollen.
This product has been approved by Allergy UK, it is AHAM verified, and it has been verified by the Asthma and Allergy foundation of America.
The Fellowes air purify uses antimicrobial treatment with the help of Plasma technology to protect against mildew, fungi and bacteria.
This Fellowes AeraMax includes a smart sensor that can check the quality of your air and modify its fan speed accordingly, so if it detects more particles than usual it can speed up and if your air is relatively clean it can slow down.
This purify includes an Era+ Mode which has been especially designed to help allergies by increasing the air flow by up to 35% to help remove harmful particles from the hair.
The Fellowes AeraMax contains automatic indicators which will remind you when it is time to replace your HEPA and Carbon filters.
This product comes with an impressive 5 year warranty to protect you against accidental damages.
Summary
Features: HEPA filter - Certified & approved by multiple organisations - Plasma technology & antimicrobial treatment - Smart sensor - Can increase air flow by 35% - 5 year warranty.
Pricing: High-end.

PureMate Review - Number 3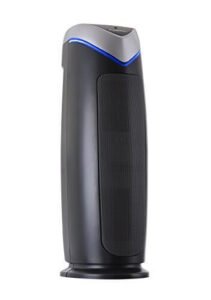 This large and impressive PureMate air purifier will effectively protect you from pet allergens. Read on to discover more.
The PureMate air purifier comes with a True HEPA filter which has a 99.97% chance of catching dust, pet allergens and pollen. It can also run extra quietly on its low setting, so you can keep the purifier running all night without disturbing anyone's sleep.
This PureMate Multiple Technologies purifier is complete with an optional ioniser and UV-C light, both of which can help remove the harmful viruses, bacteria and spores which can lead to illness.
This purifier comes with an impressive digital display and a smoke CADR of 110. CADR ratings (Clean Air Delivery Rate) measures how much air your purifier can clean in one minute.
The PureMate air purifier comes with an activated carbon filter, which is essential for removing unpleasant pet odours as well as unpleasant cooking and smoking smells.
This PureMate air purifier comes with a full 2 year manufacturers warranty, so you are protected from any accidental damages.
Summary
Features: 99.97% effective HEPA filter - Quiet setting - Digital display - Optional ioniser - UV-C light - Suitable for medium & large rooms - 2 year warranty.
Pricing: Mid range

Verdict
All of the air purifiers mentioned above will do a good job of protecting you against pet allergens, but first place goes to the AeraMax Pet PT65 Air Purifier, Allergy and Odour Control. This purifier has been specially designed to protect against pet allergens and remove pet odours. It also offers an impressive HEPA filter, manual settings, and a double strength carbon filter designed to remove particularly bad smells.

It is a sad but true fact that many animal lovers are allergic to their favourite pets. Animal hair can cause allergic reactions which can make you sneeze, hurt your eyes and make it difficult for you to breath. Animal allergens can be particularly harmful for people with pre-existing conditions such as asthma, because they will aggravate existing respiratory problems.
These allergic reactions have prompted some people to invest in hypo-allergenic animals because their fur is less likely to cause an allergic reaction, but this isn't a viable option for everyone. If you have a hairy animal that you love but are also allergic to, you should consider investing in an air purifier that is designed to combat animal allergens.
We understand that shopping for technological equipment can be time consuming by itself, and when you throw in specific features it can become a nightmare. Luckily we are here to help with our list of the top 3 best air purifiers designed to tackle pet allergies.