How you can benefit from a Dehumidifier in your Home
If you suffer frequently with a runny nose, itchy eyes or a dry tickly cough, then the problem may actually be inside of your home. There are millions of allergens floating around in the air, from pollen to mould spores and many others in between and all of these can cause problems for those who are susceptible to allergies.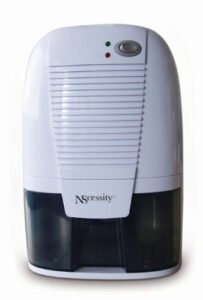 There are a number of things that you can do about this. The easiest thing that you can do is to invest in a decent dehumidifier. These work by drawing moisture and allergens like mould spores out of the air, keeping the air in the home fresh and clean. Here are some of the benefits associated with using a dehumidifier.
In order to get the most from your dehumidifier, it is important that you choose one that will be worth the money. To help you, we have decided to review our favourite dehumidifier at the moment.
Pros:
Compact design so would be able to be placed anywhere in the home.
Quiet so can be used overnight without causing any disruption to sleep.
Easy to control.
Built in filtration system.
Cons:
Small capacity water tank.
May not be suitable for larger rooms.
Our Review
Upon opening the package, we were pleased to find out that there was very little required to set up the dehumidifier. It was simply a matter of plugging it in and we were then able to get it up and running. The appearance of this dehumidifier is actually quite standard in terms of these units. It has the controls on the top of the dehumidifier and then the water tank at the bottom.
Before we tried out the dehumidifier, we had a good look around the unit. It feels quite lightweight so would be easily moved between rooms if necessary. It also has a carry handle on the top for easy transportation. The unit itself feels very well built and like it has been built to last. The water tank itself can be easily slotted in and out of place for easy emptying which is a plus.
Upon starting up the dehumidifier, we were really pleased with the noise level. It didn't sound too noisy which you often get with these types of units. It isn't any louder than a fan on low speed. We decided to run the unit overnight to see how much water it would collect from a damp room.
We were really impressed by the amount that was extracted from the air after just one night. It had almost half filled the 500ml capacity water tank. The great thing about this dehumidifier is that it blows out fresh cold air through a filter. We definitely noticed the difference in a damp room within just a couple of days.
For the price, the ease of use and the effectiveness of this particular dehumidifier, we really can't complain.
Features:
Removes up to 250ml Daily
500ml Capacity Water Tank
Built in Filtration and Sterilisation
Low Noise
Lightweight
Easy Operation