Fellowes AeraMax DX5 Review
This is the second air purifier I have purchased (my old one had been put in to well deserved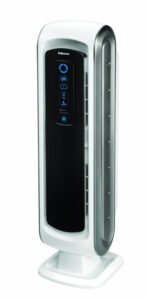 retirement) but the DX5 (lowest price here!) is thankfully superior in many ways. I bought the medium size version in October last year for a very reasonable price. It has a lot of decent features and seems a well-made, good quality piece of hardware.
After having used it for several weeks I feel that I can give a good run down of why I would recommend this air purifier.
My apartment is on the top floor which means it can often feel stuffy if all of my neighbours below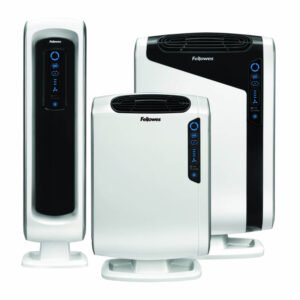 me have the heating on. I also live beside a busy main road too so it is a relief to know that my family are exposed to cleaner air. The net curtains need washing every couple of months so we know that there is a lot of dirt coming in from the outside.
This model looks good, very 'Star Trek: The Next Generation'
HEPA Filter – A Premium filter to catch all the dirt & toxins
Automatically indicates when the filters need changing
Changing the filters is very easy as you hear it click in to place
It has already stopped the spreading of mildew on our bedroom ceiling
Automatically adjusts speed if it senses particularly poor air quality
Collects absolutely loads of dust and dirt, couldn't believe my eyes when I looked at the filter after just a few days
Good for allergy sufferers and is endorsed by Allergy UK who I do trust with other products such as pillows and mattresses
Is light enough to carry from room to room with no problems so can be used anywhere.
Has a turbo 'Aera +' mode that allows you to blast a room with fresh air for 10 minutes at a time
Nice and quiet compared to our older air purifier
It shows you when you need to change the filters which saves you manually checking.
We are really happy with it anyway, especially my wife who is, shall we say, a 'bit of a sneezer' and always seems 'snuffly' or bunged up despite not being specifically allergic to anything. I can see that it works because her symptoms only come on when we are out and about or visiting friends with pets etc. I think it makes the air in the whole apartment noticeably fresher so am looking forward to seeing how effective it will be in the Summer when the apartment can sometimes become stifling.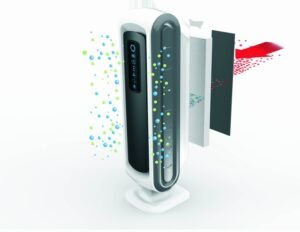 Overall, it's a very decent piece of kit that I would recommend, it's just about quiet enough to have on in the lounge if you are watching TV but probably would distract a little if you are watching something where you really needed to concentrate on dialogue but you can move it easily enough in to another room (or in our case leave in the hallway and it seems to keep the whole place fresh and dry feeling.)
I have found that I can sleep easily enough in the same room if is on quiet mode, it may actually even aid sleep because it is a kind of white noise after all. The instructions are a bit vague but you soon get to understand how and when to change the filters, the buttons are touch sensitive and make a satisfying 'bleep' after you have pressed them for a few seconds.