GT50 Air Purifier / Ioniser Review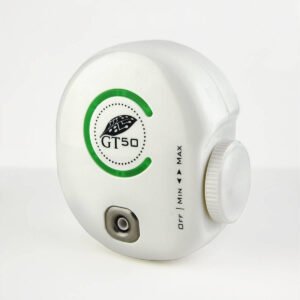 We purchased the GT50 Sterling Professional-Grade Plug-in Adjustable Ionic Air Purifier by Green Tech Environmental (lowest price here!), after a recommendation from a friend who had complained about her flat feeling stuffy all the time. Our house is usually a comfortable temperature but we do live very close to a busy main road and it was concerning us to see how quickly and frequently our white net curtains needed washing.
As it was such a good price compared to bulky, full sized air purifiers we figured it was worth testing to see if it made a difference to the air quality and ambience of our house. Having read up a little about the benefits of activated oxygen also known as ozone, we felt it would be a no fuss way of getting extra fresh air in rooms that otherwise might not feel 'lived in'.
Smallest effective air purifier we could find, plugs in anywhere in the home.
Protects the home from mould and mildew by removing and capturing spores from the air.
Effective over a five metre squared room but we have found it effective even in some larger rooms though obviously would have a more noticeable effect the smaller the room
Looks neat and tidy, no cables to trip over.
Adjustable power, we keep ours on 'Max' at all times though
Nice and quiet: Can easily sleep with it switched on and doesn't distract from the telly.
No filters or replaceable parts required.
You really notice the fresh air effect when you come into a room.
There is less air-borne bacteria too with less dust flying around.
Came well packaged and easy as pie to set up, just plug in and go!
As a plug-in rather than a standalone device you will effectively need to sacrifice one of your plug sockets when using but the
 added benefit is that you can quickly and easily take it out and purify another room with ease. We tend to leave it on for two hours at a time in each room and this provides a palpable sense of freshness every time. It's worthwhile doing your vacuuming in a freshly 'purified' room as you will be picking up all the dust particles that the ions have made fall to the floor. In this way you might notice that there is less house dust on everything else too.
Overall it's a very useful bit of kit, we even found that it got rid of the cigarette smell that follows some unfortunate people around, it just makes your home 'fresher' there's no other way to describe it. Although we haven't had the opportunity to do so yet, I will definitely take it with us next time we go on a family holiday so we can ensure we always have purified, cleaner air. I can imagine it would especially beneficial as some hotel rooms are quite fusty. At maximum setting it is still quiet, sounding a lot like a small desk fan, just a gentle hum so you can plug in and forget about it. After a while you don't even notice the sound as you tune out.