How you can benefit from the Futura Air Purifier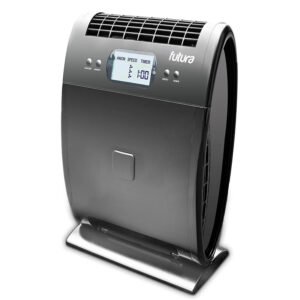 If you suffer from asthma, COPD, allergies or skin conditions, then the problem may not be in your lifestyle, but rather the air that you breathe in your home. Millions of micro particles are floating around in the air inside the home and they can dramatically affect pre-existing medical conditions.
By purchasing an air purifier, you are able to breathe cleaner air, remove pollutants and potentially reduce any symptoms that you suffer with. We have decided to review the Futura Air Purifier for you so that you can see if you can benefit from its features.
Pros:
Its HEPA filter helps to remove pollen, dust and even pet fur from the air, making the air in the home much cleaner. This is particularly beneficial for allergy sufferers.
It has a very generous area of coverage at 320 square feet, so is suitable for large rooms.
Very user friendly with digital controls as well as a remote control for easy use.
It has an activated carbon filter to remove unpleasant odors and a cold catalyst filter to eliminate harmful gases.
Releases negative ions to further purify the air.
Very affordable unit.
Cons:
It is quite noisy, so may not be suitable if you want to run it overnight.
Finding replacement filters has been an issue for some people.
Our Review
Upon first glance, this air purifier from Futura has been packaged simply. The first thing that we really liked was the fact that there was no assembly required. As soon as it was plugged in, it was ready to go. Upon first use, you will be presented with a very simple user interface that displays speed and timer options.
By using the buttons to either side of the LCD screen, you are able to select your desired speed and timer with ease. For example, if you press the speed button twice, you will see two fan symbols under the speed section of the screen. This is the middle speed. By pressing it a third time, you will see three fan symbols, which is the maximum speed.
Setting the timer itself is just as easy; by pressing the timer button repeatedly you can set it to the exact timer that you want. It goes up in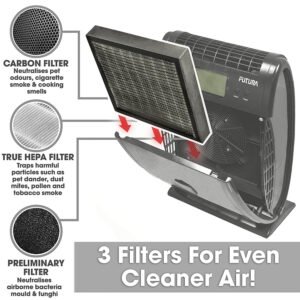 minutes all the way up to 12 hours, so you can choose how long you would like it to run for. When we decided to take a look at the filter, the first thing that we noticed is how large it is. It is this filter that will absorb all pollutants.
Using the remote control at first was a little confusing. The buttons felt a little hard to press and the options weren't all that clear. However, with a bit of practice, we found that the remote control option was really useful, especially when the air purifier started to get a little too noisy.
The unit itself has been built really well and feels robust. One of the things that we liked about it was the slim design. It wouldn't look out of place in a modern home. We also liked the fact that you can control the release of negative ions, not only from the buttons on the unit itself but also via the remote control which is really handy.
For a budget air purifier, we were really impressed with the coverage of this unit. It can clean a really impressive 320 square feet so would be suitable for most large rooms. It isn't too bulky, so it can be easily placed discreetly in a room. Considering the price of some of the bigger brand named air purifiers that are available, this one definitely exceeds expectations in terms of performance.
The only possible complaint we have is that it can get a little noisy. If you find it difficult to sleep at night with any background noise then you may find this air purifier a little annoying. However, for the small price tag and high level of user friendliness, we definitely can't complain.
Features:
HEPA Filter
Activated Carbon Filter
Cold Catalyst Filter
Negative Ions
3 Speeds
12 Hour Timer
40W
320 Square Feet Coverage
5M Cable
2 Year Guarantee