[section]
[row]
[col span__sm="12"]
EcoAir DC202 Dehumidifier Air Purifier Combo Review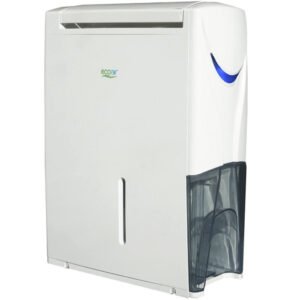 I bought the 'EcoAir DC202 Hybrid Dehumidifier/Air Purifier (VIEW PRICE HERE!), (20 Litre model) to replace an older dehumidifier we had. It is a brilliant, fully functioning dehumidifier but with the added benefit of being an air purifier too, so you don't need two separate pieces of kit in your room as this does the lot in terms of improving the air quality in your living space. I've been using this device for about three months so feel well qualified to give a reasonable overview.

Two gadgets in one case dehumidifier and air purifier, saves space.
Plenty of timing options eg. 2 hour, 4 hour, 12 hour cycles etc etc.
Makes the whole house feel drier and fresher.
Beneficial to asthma sufferers and anyone who might be affected by allergies, especially pet allergies
Has wheels so can easily be moved around without lifting it up.
You can add essential oils of your choice to the diffuser so can scent your home with your favourite aroma eg. Lavender, Ylang Ylang etc.
Air flow direction can be adjusted to being movable or fixed.
If used all day in a damp environment can easily extract 20 litres of water from the air.
Comes with a charcoal filter, silver nano filter and electronic ioniser which literally makes air-borne dust fall to the floor.It certainly functions very, very well as a dehumidifier as it has put a stop to two growing patches of mould (one in the bathroom and one in the bedroom) and it is staggering to see how much moisture it pulls from the air that would otherwise be settling behind your furniture and walls and ceilings. Having drier air indoors really does make your home feel warmer and more cosy. Compared to some other models of dehumidifier, this one can lay claim to being 'Eco' but of course, it will cost money to run but in my opinion it is well worth a few extra pence on your electricity bill. As an air purifier it gives my home a palpable sense of freshness, you really notice the difference when you go to someone else's home who doesn't use one anyway.If you decide to add essential oils to the diffuser you only need a few drops to really make a difference. I've used lavender mostly and it even makes some of my clothes smell of lavender although I'm, not sure if this is a good thing for anyone I know who doesn't like lavender!

Overall I am really pleased with Eco Air DC202 Hybrid; it delivers as both a very good dehumidifier (and it is so satisfying seeing how much water it collects) and as a room air purifier – when I come home from work my house never feels stuffy, it feels as if the windows have been left open all day but without the risk of spiders coming in from outside. It is one of the best purchases I have ever made I think. The two-year guarantee is reassuring too but I am confident it will last longer than that before I need to think about replacing it.

[/col]
[/row]
[/section]