Product
Top Rated
Great Value
Filter
Carbon True HEPA with AeraSafe™ Antimicrobial Treatment
Top Rated
Product
Great Value
Product
Filter
Carbon True HEPA with AeraSafe™ Antimicrobial Treatment
Product
Air Purifiers for Dust Mites
If you or anyone you know suffer from allergies or hay fever, you'll know how frustrating it is when your home or workspace becomes a breeding ground for dust mites. Aggravating your sinuses, itching your eyes, and making your skin crawl, dust mites can be an utter nuisance!
Now imagine spending an entire night in uninterrupted, peaceful slumber. Imagine spending time with your family and friends in your home without sneezing and coughing every five minutes.
Imagine being able to have your furry friends inside with you without tears welling up in your eyes. With an air purifier that specialises in getting rid of dust mites, these dreams are now a reality. As technology advances at this modern rate, there are more and more models that fit this particular need on the market every day.
Available to buy online and in-store from numerous shops and dealers, an air purifier for dust mites could be the solution to your problems! Don't suffer in silence any longer; have a look at the top selection of air purifiers for dust mites and put an end to your allergy issues.
Philips AC3256/30 Air Purifier Review – Our Number 1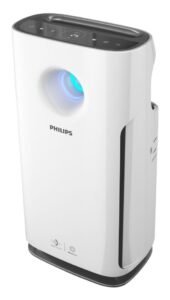 If you're stuck for a fix for your blocked nose and disruptive cough, then look no further than the Philips AC3256/30 (CHECK PRICE!) to clean the air around you and make difficulty breathing a thing of the past! At the top of the range, this product from Philips boasts unbeatable reliability and functionality and has an incredible range of professional features listed here:
Unparalleled speed. It filters out 99.9% of bacteria in only one hour!

CADR of 367 m3/ hour meaning you can clean your entire home in no time at all and enjoy the fresh air benefits sooner rather than later.

Equipped with night mode setting to allow for silent running, enabling you to sleep undisturbed by whirring and sucking noises.

Colour coded air quality measurement system, where each colour denotes a different air condition. This allows you to keep tabs on the air quality in your home and adjust the purifier settings accordingly.
Philips isn't a world-renowned high-standard brand for no reason; their products truly work, and the AC3256/30 air purifier is no exception. If you want effective solutions and swift results, then this is the machine for you!
Feel the difference in your health and sleep in only a matter of time with the Philips AC3256/30.
Summary
Features: High speed action – CADR of 367 m3/hour – Night mode setting – Colour coded air quality control system.
Pricing: High-end
 Fellowes Allergy UK AeraMax DX55 Review – Number 2
Are your allergies playing up more than usual? Are your children, friends, and family becoming affected too? It might be time to invest in an air purifier like the Fellowes Allergy AeraMax DX55 to banish the sniffles and itchy eyes for good!
This product promises fantastic results for a reasonable price, and comes equipped with a range of exciting features and functions:
The AeraSafe antimicrobial treatment system works in conjunction with the AeraSmartTM sensor to monitor air quality and automatically adjust processes to ensure you are always protected.

Includes filter change indicator lights to ensure the filter is never overfilled and rendered ineffective.

Air purity indicator lights are colour coded so you always know how clean your air is.

Certified by the Allergy UK seal of approval, so you know you are in good hands.
The collaborative efforts of each component of the Fellowes AeraMax DX55 enable you to rest assured that pollen, fur allergens, and dust mites are effectively eliminated from your home and workspace, allowing you the freedom to breathe deeply without suffering anymore! The Allergy UK certification also acts as proof of the product's results so you never need to doubt your decision.
Summary
Features: AeraSafe antimicrobial treatment system – AeraSmartTM air quality sensor – Filter change indicator lights – Air purity indicator lights – Allergy UK certified
Pricing: Mid-range
PureMate® PM 510 Air Purifier Review – Number 3
Do you want to remove allergens, toxins, and dust mites from your life without splurging your budget? It may seem like a difficult feat but rest assured that the answer is out there, and it comes in the form of the PureMate® PM 510.
This air purifier comes equipped to battle stubborn allergens, leaving your home dust mite free. Take a look at some its top features:
True HEPA filtration system removes 99.97% of allergens, replacing them with good, clean air for you to breathe freely.

Digital display and optional ioniser ensure far-reaching CADR suitable for even larger spaces and rooms.

UV-C light built in to help kill airborne bacteria, mould spores, and viruses, providing an extra protective service.

2 year manufacturer warranty as a testament to its high quality.
The PureMate® PM 510 air purifier is also specifically well-suited to those suffering from asthma, and its in depth filtration processes can greatly lessen the symptoms of sufferers. If this sounds appealing to you, what are you waiting for?
Summary
Features: HEPA filtration system – digital display – optional ioniser – UV-C light to kill pathogens – 2 year warranty
Pricing: Affordable
Verdict
Allergies and respiratory problems that affect so many people across the country and the world, it is no surprise that so many amazing products have been developed with sufferers in mind. As far as these top choices go, the recommendation has to be the Philips AC3256/30 air purifier.
With a brand name that can't be beaten, and results that prove its efficacy and reliability, this air purifier is perfect for any home or office space. If you want to once and for all rid your home of nasty dust mites and other allergens, you cannot do better than the Philips AC3255/30.