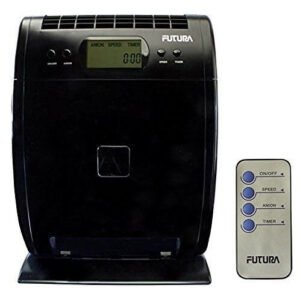 I have been using the Futura 40W Pro HEPA Air Purifier Ioniser (lowest price here!)for several weeks and can definitely say it was a good investment. Upon unboxing, it is about the same size as a PC desktop tower so can be put almost anywhere without taking up too much space. It's black so it doesn't clash with anything visually. The Futura Pro also comes with a handy remote control which is great if you have trouble bending down or even if you just can't be bothered to get up!
Having an easily accessed On/Off button this product can control the speed and timer. The remote is very small though so be careful it doesn't get lost down the back of the sofa, but it is easy enough to operate manually though should that happen. It works by firing out ions which cling on to floating dust particles and allergens and makes them fall out of the air, it's definitely noticeable when you begin using it. It also seems to be effective at getting rid of the horrible smell of stale smoke if there are any smokers in the home. I will list some of its features:
12 Month guarantee is reassuring but the kit seems well made and looks like it was built to last.
Good for your health as it removes pollutants from the air.
People who suffer from allergies are exposed to fewer allergens so fewer sneezes and sniffles.
Gets rid of horrid smoke smells or lingering cooking smells.
The instructions are clear and easy to interpret.
Small and light enough to be carried and used in any room
Looks modern and stylish
Small footprint means it can be kept anywhere out of sight
HEPA filter claims to trap 99.7% of air particles.
Really handy remote control included with battery installed.
Manufacturer states it can be effective over 320 sq.ft
So, with the above comments in mind, I would say that the Futura is one of the better models of air purifier. The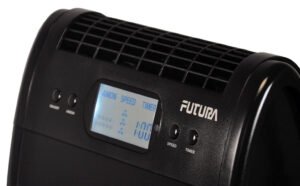 manufacturer's instructions recommend that you leave it running on low 100% of the time but we tend to just put it on full blast whenever we feel like it just to freshen up the place a bit and it never fails to do that. I haven't noticed a significant increase in the electricity bill either so it must be energy efficient. It is perhaps a touch too loud to have in the lounge if you are watching television so we tend to put it on in the hallway most of the time, in this way all the adjacent rooms get a bit of the benefit of purified air.
Overall everyone seems to benefit from the 'Futura Effect'; mouldy, mildew corners are a thing of the past in our house and there was noticeably less sneezing when we purchased this toward the end of last Summer so I think hay-fever sufferers would benefit especially well. Used alone it is probably not enough for an entire home but is certainly effective for the entirety of one floor or the other – for this reason you might want to consider buying two.