[amazon table="329"]
Best 3 Air Purifier For Babies
Philips AC3256/30 Review - Our Number 1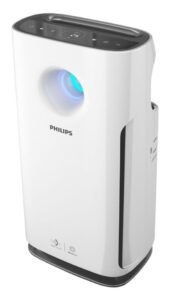 This Philips air purifier reacts quickly, offers multiple settings and has an impressive CADR rating. Read on to uncover all the details (CHECK PRICE!).
This Philips AC3256/30 Air Purifier is remarkably fast acting and can catch 99.9% of bacteria within one hour.
This air purifier is great for preventing allergic reactions and improving air flow because it can remove 99% of unwanted particles such as dust, pollen, cat hair etc.
The Philips Air Purifier has an impressive CADR rating of 367 m3/hour. CADR stands for Clean air delivery rate, and it measures how much air the purifier can cleanse within a certain period of time.
This air purifier will assess the quality of the air around it and then let you know the status by displaying a colour. Blue means the air is good, purple means it could be improved, and red means it's bad and needs to be improved.
The Philips Purifier has a smart sensor that will access the quality of the air within the room it's based in and adjust its settings accordingly, so it will respond to changes in the air and work faster or slower to meet your needs.
This air purifier has a night mode which allows you to dim the display lights and turn down the volume and energy consumption, so you can sleep peacefully whilst still enjoying the benefits of cleaner air.
This device is very easy to use and won't sky-rocket your electricity bill. You can set the amount of hours you want the purifier to run for (you can choose between one, four and eight hours) and then the device will switch off until it's next needed.
The Philips purifier is ECARF certified. ECARF determines whether the purifier is allergy friendly.
Summary
Features: Fast acting - High CADR rating - Smart sensors control air quality - Night mode - ECARF approved
Pricing: High-end.

Vax Pure Air 300 Review - Number 2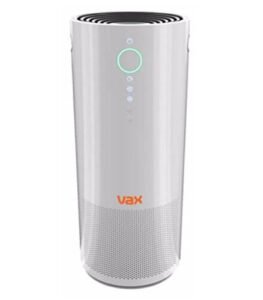 This tried and tested air purifier guarantees significantly cleaner air that is virtually free from allergens. Read on to find out more.
All HEPA filters are designed to thoroughly capture particles which are as tiny as 0.3 microns!This purifier is complete with a HEPA filter, which is one of the most powerful filter options out there and is sometimes recommended by doctors to help alleviate asthma attacks and allergic reactions.
The Pure Air 300 does have an ioniser setting which will send negative ions into the air so they can kill mould spores, bacteria and other allergens, but it is not always advisable to use this setting around a baby because it could have a negative impact on their lungs.
The Vax's smart sensor can adjust its filtration speed based on the current quality of the air, so it will adjust itself to meet your needs.
This air purifier works in many different room sizes and is suitable for any area under 120m2.
The Vax purifier has five settings that you can choose from, including a sleep mode which is quieter and uses less power than the other settings, so your air purifier can run all night long without disturbing you.
The Pure Air 300 will automatically remind you to change its filters, so you don't have to worry about remembering.
Summary
Features: Removes 99% of airborne particles - HEPA filter - Ioniser setting - Smart sensor - Multiple settings - Automatic filter  change reminder.
Pricing: High-end

AeraMax DB5 Review - Number 3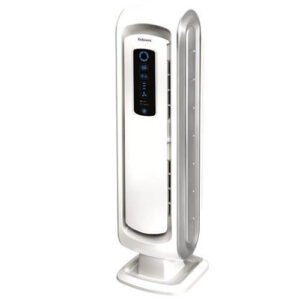 This air purifier has been specially designed to protect babies and young children against the harmful particles that exist in the air. Read on for a full overview of this product.
This air purifier has been specifically designed to protect babies from harmful particles. The AeraMax Baby Air Purifier is equip with a True HEPA filter, which can remove 99.97% of harmful particles including viruses, pollen and dust.
The AeraMax Baby purifier also features an active carbon filter, which is essential for eradicating those nappy smells.
This purifier comes with a smart sensor that closely monitors the rooms air quality and will adjust its fan speed accordingly.
The DB5 is designed to be as quiet as possible, and it also features a night mode which allows you to turn off the display lights and let your baby sleep in peace.
The AeraMax purifier is suitable for rooms that measure up to 8m, so it is great for small bedrooms and play rooms.
It is possible to lock the display panel on this purifier to stop you child accidentally damaging the device or playing with the settings.
The DB5 operates via a 4 stage system that ensures your air becomes and remains clean and smells pleasant.
Summary
Features: Specially designed for babies & small children - True HEPA filter - Active carbon filter - Smart sensor - Quiet - Night mode - Suitable for small rooms - Lock options.
Pricing: High end.

Verdict
All of these air purifiers are impressive and would definitely make a difference to the air that your child breaths, but first place is awarded to the Philips AC3256/30 Air Purifier, Anti-Allergen with NanoProtect S3 Filter because it acts fast to eradicate germs and harmful parasites, it has an impressive CADR rating, it is ECARF certified and not only does it have smart sensor features that will monitor the air quality and change accordingly but it will also let you know how good or bad the air you are breathing is by using a simple colour display.

If you've recently had a baby, you're likely to be concerned about their health. Babies don't have fully functioning immune systems yet and they are more susceptible to pollution and air born viruses than adults are, so a lot of parents feel that an air purifier is a good way of protecting their baby against illness, breathing problems and asthma.
This is especially true if you live in a highly polluted city like London, because air pollution is harmful enough for people with fully developed lungs. Are purifiers are also effective for babies and young children who have asthma, allergies or difficulty breathing because they can help increase the air flow in a room and remove any irritants. There is a strong link between clean air and healthy babies, and as a new parent you'll want to make sure your baby isn't constantly breathing polluted or unhealthy air.
Whilst many air purifiers than include an ionising element (which tend to be fairly quiet in comparison to other devices) have low ozone emissions, some can be damaging to the lungs and are therefore especially bad for young children and babies. If you are going to buy an ioniser, ensure it meets safety regulations. Babies actually sleep better when there is a little background noise in their room, and so even though you may think the quietest purifier is best babies may actually prefer a bit of noise.
We understand that buying an air purifier can be a stressful, time consuming task at the best of times and it's even harder when it's for your baby. Luckily we've compiled a list of the three best air purifiers specifically designed to keep the air your baby air clean and fresh.