[amazon table="1171"]
Top 3 Air Purifiers With AOC Washable Carbon Filters
AOC stands for advanced odour control and it refers to a filter that uses activated carbon to get rid of unpleasant odours such as cigarette smoke or cooking smells.  Rather than making you replace its filters regularly, many AOC's have washable filters that normally last longer than their non washable counterparts and will therefore prove cost effective in the long term.
Shopping for air purifiers is time consuming at the best of times even without all these specific features, but if you want an AOC washable carbon filter we are here to help. We have compiled a list of the three best air purifiers that use AOC washable filters, so read on to find the perfect AOC purifier for you.
Electrolux EAP450 Review - Our Number 1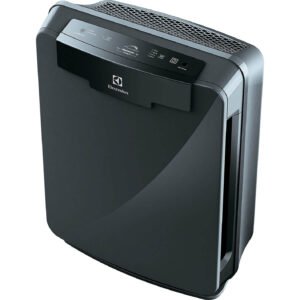 This high-end AOC purifier (CHECK PRICE!) has an impressive five stage filtration process and can greatly improve the quality of your air. Read on to discover more.
The Electrolux EAP450 uses an impressive five stage process to filter your air, ensuring 99.9% effectiveness and a noticeable difference.
This air purifier has a smart sensor that measures the air quality in the room it is in, and it will notify you if the air gets worse so you can become aware of what actions decrease air quality and learn how to avoid them.
The Electrolux is approved by the Swedish Asthma and Allergy Association, who have verified that it can effectively help asthma and allergy sufferers.
This product is complete with washable filters. Washable filters have a longer life span than regular filters, and so this will also prove cost effective in the long term.
When your filter does eventually need changing, your air purifier will tell you so you don't have to worry about forgetting.
Summary
Features: 5 stage process - 99.9% Effectiveness - Smart sensor - Approved by the Swedish Asthma & Allergy Association - Washable filters & filter change indication.
Pricing: High end.

Winix U300 Review - Number 2
This is an impressive HEPA filtered purifier which is complete with a washable filter. Read on to discover more.
The Winix purifier runs through a 5 stage cleaning system to remove harmful particles from the air. These particles include bad smells, mould spores, chemicals and dust.
This purifier contains an All-in-One True HEPA filter which has a verified 99.97% success rate. This device also includes a pre-filter, a granular carbon filter, a plasma wave and CleanCel technology filter.
Plasma waves are generally considered a safer alternative to ionisers because they break down odours, chemicals and pollutants without creating potentially harmful ozone molecules
The Winix purifier is complete with an AOC washable filter which utilises the activated carbon feature to get rid of bad smells.
This purifier is ideal for small to medium sized rooms such as bedrooms and offices.
Other impressive features include four fan speed choices, a free remote control and an extra quiet sleep mode option.
This purifier is also ECARF certified, AHAM certified and approved by The British Allergy Foundation.
Summary
Features: 5 stage cleaning system with Cleancel - Pre-filter - Plasma wave technology - Granular carbon & HEPA filters - Safer alternative to ionisers - Washable filters, certified - Ideal for bedrooms and offices.
Pricing: High-end.

Bionaire Air Purifier Review - Number 3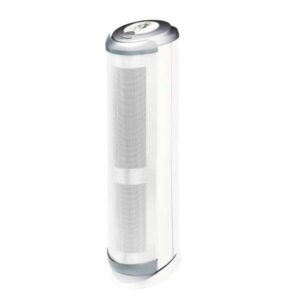 This shiny air purifier uses light scattering techniques to filter air quickly and effectively. Read on to find out more.
This Bionaire Air Purifier uses a 5 stage system to cleanse your air effectively, and this includes two HEPA type filters that are permanent and therefore will never need to be replaced.
This air purifier also uses a system known as light scattering. This system uses its sensor to measure the distance between the sensor, the particles and the light source. If the sensor picks up any particles it will automatically speed up filter accordingly, so it can effectively remove large amounts as well as small numbers of particles.
The Bionaire Purifier has a CADR of 170m3 which is ideal for larger sized rooms.
You can control this purifier manually and you can choose from any one of the Bionaire's four cleaning levels. This purifier also features an 8 hour timer and a quiet mode for night use.
This purifier comes with a washable pre-filter and an LED filter indicator which will let you know when you need to replace your filters.
The Bionaire Purifier comes with an independently controlled ioniser to help eradicate viruses, bacteria and disease spreading particles.
Summary
Features: 5 stage system - Light scattering with smart sensor - Ideal for larger rooms - Washable filter - LCD display - Controlled ioniser
Pricing: Mid range.

Verdict
These are all good air purifiers that utilise the AOC function to great effect, but the winner has to be the Electrolux EAP450 Healthy Living Oxygen Air Purifier - Charcoal Grey. This impressive air purifier guarantees that 99.9% of harmful particles will be removed from your air, it uses an effective 5 filter method to cleanse your air, it has a smart sensor and an automatic filter indicator, and it has been approved by the Swedish Asthma and Allergy Association.