Product
Our Pick
Value For Money
Our Pick
Product
Product
Value For Money
Product
Top 3 Air Purifier Fans
Air purifiers aim to filter and improve your households air by removing the particles, irritants and bad smells that can pervade our homes.  Many air purifiers will have a built in fan because the fan makes it easier for the purifier to suck in air. Not all air purifiers have fans, but if they don't they may not work as well because fans will typically pull in more air. Air purifiers are not miracle workers and they should not be used in place of proper cleaning and ventilation, but they can vastly improve the quality of air that you breathe.
HEPA filters are renowned for their ability to remove more than 99.97% of particles, viruses and odours, and they are also sometimes recommended to asthma or allergy sufferers because they can help protect against irritants and increase the airflow in a room. Air purifiers can be very beneficial for general health and well being because they can help improve the health of allergy and non allergy sufferers alike.
There are many different air purifiers to choose from and you may be feeling a little overwhelmed. Luckily we are here with a list of the top three air purifier fans that could help you breath easily.
Dyson AM11 Review – Our Number 1
This impressive high-end purifier from the respectable Dyson company take air purification to the max. Read on to discover its large range of impressive features (CHECK PRICE!).
This Dyson product contains a filter that helps trap even the smallest particles. It is also efficient at getting rid of bad smells and fumes, and it will help you keep cool in summer as it can circulate clean air around your entire room.
This Dyson purifier contains a HEPA filter, which are well known for their ability to catch 99.7% of particles.
The Dyson device is made out of strong microfibres and activated carbon granules that make this purifier extra effective.
The microfibres in this purifier helps to catch even the smallest microscopic particles, and the 360 degree air intake means this device can be effective anywhere in the room.
You can use this Dyson purifier up to 12 hours a day in order for it to last for a year before you have to replace the filter.
The Dyson purifier offers an extensive list of 10 different speed settings so you can adjust the purifier depending on your needs and the time of year.
As this Dyson purifier has an in-built fan which can be used to circulate cold, clean air throughout your room to ward off any potential discomfort.
This Dyson purifier has been designed to be 70% quieter then comparable products.
Although this device is powerful, it is also remarkably small and can fit into small areas.
Dyson are respected and well known manufacturers of air purifiers and other home devices.
Summary
Features: Respectable brand – Trap even the smallest particles – HEPA filter – 360 degree air intake – 10 different settings – Quiet – Compact.
Pricing: High-end.
[amazon_link asins='B00BJQLS2S,B0170FQRQI,B006ZKXIXK,B004R9OU42,B00L3OZX2C' template='ProductCarousel' store='bestairpurifier-21′ marketplace='UK' link_id='889e5460-d74d-11e6-80d6-a5a80d07acc6′]
Fellowes AeraMax DX5 Review – Number 2
This slim, futuristic looking air purifier is a great way of ensuring your air is clean and fresh. Read on to learn more about the Fellowes Allergy AeraMax.
The AeraSafe air purifier comes with a True HEPA filter which will capture 99.97% of particles such as dust mites, animal allergens and pollen. The in-built Antimicrobial Treatment feature will also help protect you against bacteria, fungi and mildew.
This air purifier has been endorsed by Allergy UK.
This purifying device is made complete with a smart sensor which will monitor the quality of your air and adjust its fan speed accordingly.
The AeraSafe air purifier is specially designed to help remove allergens and increase the air flow in your room by up to 35%, which is especially important for asthma and allergy sufferers.
This AeraSafe air purifier features a Carbon filter, which is essential for the removal of any lingering cigarette smoke.
This purifier includes automatic change indicators that will remind you to replace your HEPA and Carbon filters.
The AeraSafe purifier comes with an impressive 5 year limited warranty, so you are protected from accidental damages for half a decade!
Summary
Features: True HEPA filter – Antimicrobial Treatment feature – Endorsed by Allergy UK – Designed to increase air flow by 35% – 5 year warranty.
Pricing: Mid range
Breathe Fresh Review – Number 3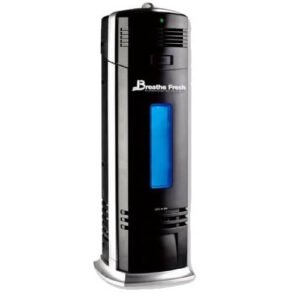 This an affordable, energy saving air purifier that is great for those on a budget who still refuse to compromise on health and freshness. Read on for some of the Breathe Fresh Air Purifiers best features.
The Breathe Fresh Purifier only uses 14 watts of electricity so you can use it all day long without fretting about hiking up your electricity bill, which will help you save money in the long term.
There is no need to replace expensive filters for this device so you can save even more money! This air purifier also comes with a handy UK plug.
This air purifier runs quietly compared to other products, so not only will it not run up your electricity bill but you can have it running all night without it keeping you awake.
The Breathe Fresh purifier has UV-C technology that helps to kill viruses, germs and bacteria that can make you sick.
There are some concerns about air purifiers because some of them can produce ozone, which can become a lung irritant. This purifier only produces 15/mg and hour, so this shouldn't be an issue.
This air purifier is UL listed, ARB certified and it comes with a 30 day satisfaction guarantee, so if you are not completely satisfied with the product you can return it within 30 days and receive a full refund!
Summary
Features: Uses less electricity – No need to replace filters – Quiet operation – UV-C technology – low ozone exposure – 30 day guarantee.
Pricing: Affordable
Verdict
These are all excellent air purifier fans, and I am sure any of them would do a fantastic job. However, first  place has to go to the Dyson AM11 Pure Cool Air Purifier, 360° HEPA Filter, White/Silver because not only does it have 10 settings, a HEPA filter and comparatively silent noise levels, but it can trap smaller particles and therefore keep your air cleaner than the other options.